Steven Baczek Residential Architectural Services - Boston Area
Steven Baczek architect is a full service architectural firm specializing in custom residential design. My philosophy is to integrate good design practices with good construction practices to provide exceptional design solutions to my client's design problems. My projects are based on proven and new innovative design ideas. The combination provides a classic elegance, a functional modern lifestyle, and an aesthetic sensibility.
Although I am located in Reading Massachusetts, my residential architectural services are used all over the United States. You will find many of my architectural projects in Boston suburbs such as Reading, North Reading, Wakefield, Winchester, Lynnfield, Andover, Lexington and more.
Architectural services vary from project to project based on the architectural problem as perceived by the client, and the interpretation of the problem by the architect. No two clients are the same and no two clients pose the same architectural problem. A project may have a special history, unusual conditions, unique goals, different desires, lifestyles or requirements. Most building projects start with a want or a need. That want, then needs to get translated into square feet and three dimensional space. Proper judgment, technical expertise, and creative skill provide the transformation from the practical need to the built form.
Architectural Studies and Work History
To learn more about my architectural experience and education, click here.

Click here to read and watch Passive HouseVideo Episode One.

Green Building Advisor "Passive House video — Episode 1" "
features Steven Baczek's Passive Falmouth House.
Click here
to watch Episode 1.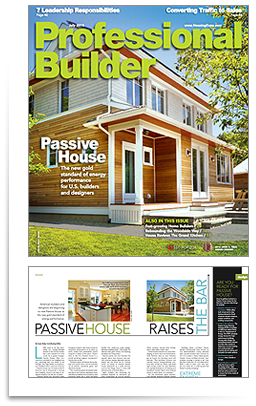 July 2013 issue of Professional Builder Magazine features Steven Baczek's Passive Falmouth House as the main article. Click here to read the article.